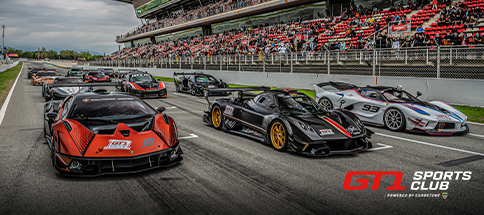 GT1 Sports Club
Destined to be the meeting point of an incredible collection of hyper-sports cars from the world's leading manufacturers, the GT1 Sports Club has proved to be the best track format to experience hyper and super track cars of the GT1 elite in their natural environment.

The 2022 calendar includes three rounds. The first two meetings will take place at the Circuit Paul Ricard (France) and the Circuit de Barcelona-Catalunya (Spain), and will run over two days following a Fanatec GT World Challenge Europe Powered by AWS weekend. The final round will be at the Yas Marina Circuit in Abu Dhabi (UAE) in December.

For the upcoming season, GT1 Sport Club has already attracted the attention of important car manufacturers, which will be announced later. Car manufacturers will have the opportunity to host driving programmes and to offer their clients the use of private lounges throughout the Fanatec GT World Challenge Europe Powered by AWS weekends.

Enjoyment of elite engineering and camaraderie will be the foremost objectives of the programme, with limited numbers on the circuit and no competitive element. GT1 Sports Club offers a unique opportunity for owners of hyper and super track cars and enthusiasts to share their passion and to fully experience some incredible machines.
Clubsport Challenge
Clubsport Challenge returns with its third edition in 2022. The winning formula of non-competitive track day series will conquer the best European racetracks again. The new element of the 2022 season is the final stop in Yas Marina and Dubai.

With a low number of cars admitted on track, Clubsport Challenge will always take place as part of a double-date event right after the Fanatec GT World Challenge Europe Powered by AWS weekends or GT1 Sport Club events. As usual, the programme will allow owners of fast production cars and race cars for clubsport use to get behind the wheel of their car. The last round at the Dubai Autodrome will be the only Clubsport Challenge event in one-day format.
Services during GT1 Sports Club and Clubsport Challenge events
Owners supported by private race teams can choose to enter the full season or participate in single events. In either case they will receive timekeeping and telemetry tools, as well as optional services such as Pirelli tyres, fuel, and car transport. Hospitality and accommodation for guests can be provided throughout the event, while hotel and personal travel services are also available on request.