The Royal Automobile Club of Belgium is launching the School of Racing with its partners Curbstone Events and professional driver Sam Dejonghe at the start of 2022. The aim of this driving school is to promote motorsport in Belgium by offering training in four areas: karting, circuit, rally(cross) and... e-sport, i.e. virtual driving, which has become an indisputable gateway to motorsport. At the School of Racing, (future) drivers will acquire a solid structure which they can rely on. Whatever their age or experience, students who join the School of Racing will find the support they need to progress faster and therefore set themselves new goals. For the younger ones, this school may be their first step towards a career as a professional driver. For the older ones, it will provide the perfect context to satisfy their passion for driving.
Four levels for personalised learning

The very nature of a school is to adapt to the level of its students. And that's what the School of Racing will be all about: it will be suited to beginners, drivers who've already mastered many of the tricks of the trade and those who wish to compete. Four different levels will be offered: Initiation (for beginners), Advanced (for those with some experience already), and Track & Racing Master for advanced drivers. Track Master is for those who don't want to compete or who wish to improve their skills before starting. Racing Master, which sits at the top of the School of Racing pyramid, will offer personalised coaching for those looking to optimise their preparation for official competitions and participate in them accompanied by their coach.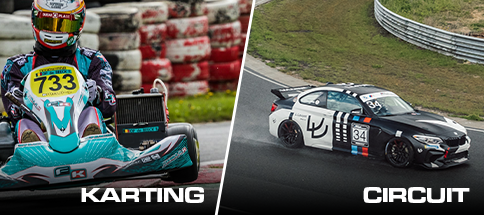 Karting and circuit from the start of 2022

During its first year, the School of Racing will start by focusing on karting and circuit. The schedule from February to July has already been established. The preference will be for Belgian circuits (indoor or on the tracks at Francorchamps, Genk and Mariembourg for karting, and Spa-Francorchamps, Zolder and Mettet for circuit) during the training courses, although a trip abroad is possible if it proves useful to the training course. The rally(cross) and e-sport courses will be launched at the end of 2022.

"I'm very pleased to support RACB in launching this new initiative in partnership with Curbstone Events", explains Sam Dejonghe, former RACB National Team driver, Formula E test driver and School of Racing figurehead. "Personally, I've managed to make my way in the difficult world of motorsport. It's been a great journey so far, but if I could go back, I would like to see the young me get more structure and good advice in order to focus on what he really likes... developing his racing skills. With the School of Racing, I'm honoured to have the opportunity to be a part of this change. The learning curve will be difficult, but our goal is clear: to create a structure that will open up new horizons in the world of Belgian motorsport and help develop our favourite sport worldwide. From karting to the highest levels of competition."

The 2022 School of Racing schedule, which you can download below, is now available on the website, www.schoolofracing.be, where you can also find more information and the registration form. In addition, you can now follow the School of Racing on social media to find out what the school has to offer.
SCHEDULE



> Download the 2022 karting schedule <



> Download the 2022 karting schedule <